Longevityandvitality
Click here for informational periscope Q & A replay
Catch me on periscope @ayohindsbankole with more info. Will post replays here
[scroll all the way down for full info]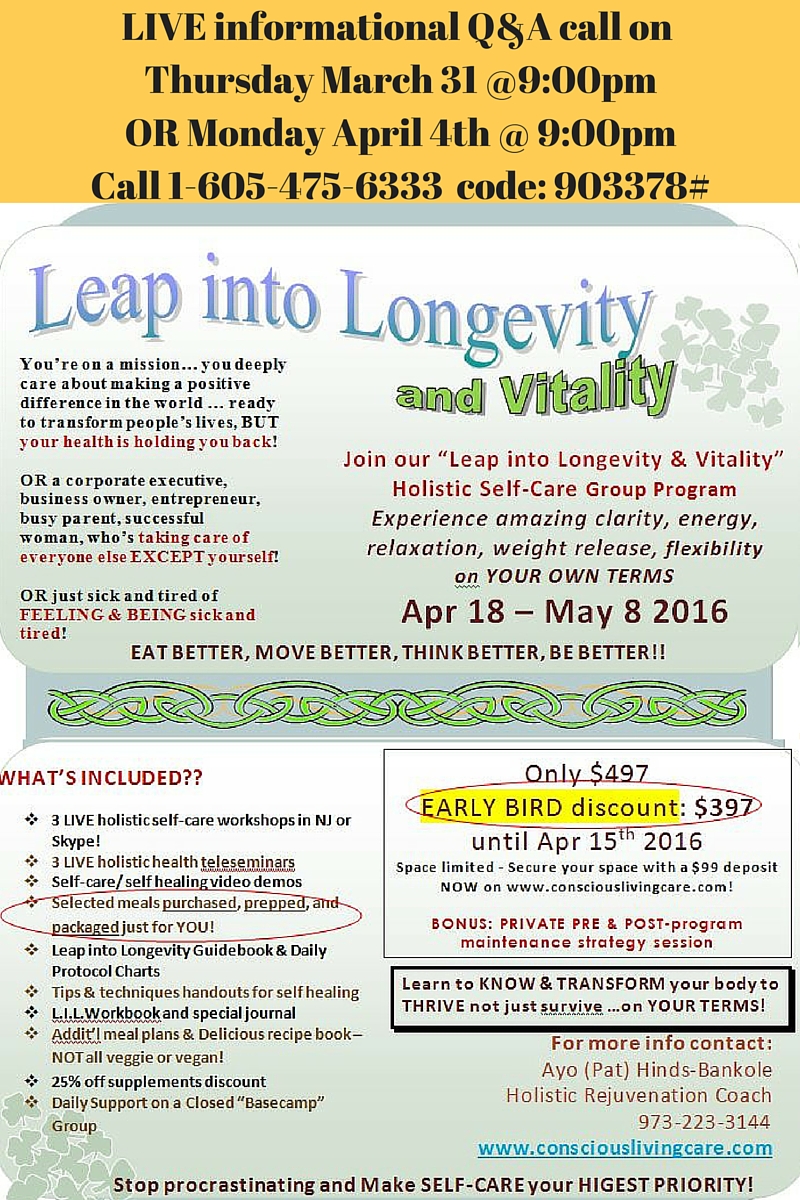 READY!!?
Space is limited !
Secure your space with a $99 deposit* NOW
!
[scroll all the way down for full info]
I'm curious, when it comes to your health are you:
– doing the same thing expecting a different result?
– using drugs with harmful side effects, without considering natural non-toxic alternatives?
– ready to curb your salt, sugar, dairy addiction?
– at an increased risk for heart disease, HBP or other serious health ailment?
– heavier today than you were a month ago…a year ago?
– stuck in a vicious cycle, having a hard time committing to even minor changes in your lifestyle?
– ready to REALLY follow your doctor's recommendation to change your diet, reduce stress, exercise, etc?
I am VERY committed to supporting you to achieve your health goals in 2016 by addressing the type of challenges listed above, or others you may have been experiencing. So, I'm recommending that you explore, and get started with the Leap into Longevity and Vitality holistic self-care program that I created with you in mind!!!
---
HOW DOES IT WORK?
Starting the week of April 18th, we will have LIVE holistic health teleseminars every Tuesday at 7:00 – 7:45pmEST, by phone, and LIVE holistic health workshops every Thursday at 7:00 – 8:30pm EST at my home or a close designated location in NJ or via skype (if you are not with in a 30min radius). Upon registration, you will receive some support material, then additional material each week. Additionally, special self-care, and cooking/food prep videos will be sent to you over the 3 weeks. You'll also get to share successes & disappoints, encourage & be encouraged, and push through your health journey with the support of fellow enrollees!
April 15th – Orientation / Q&A conference call
Week 1 – Prep week: Your goals & meal selections, daily protocol, stress management tips, maximize nutrition & elimination, private pre-strategy session if not done, and more*
Week 2 – Meals delivered, time management & meals, stress management & more* [yes, more stress management]
Week 3 – Supplements, personal care, more elimination techniques, eating out, traveling & more*
Week of May 9th: Celebration call and YOUR post-program private maintenance strategy session
* I reserve the right to add more content! 😉
---
The Leap into Longevity and Vitality group program is basically a "fast-track" 3 week holistic self-care program that will address your health challenges and re-ignite a passion for healthy living.
If you would like to take more time to explore and go deeper with the holistic health concepts, but still want all the benefits and results of the "fast track" program then contact me about the Slow Your Roll into Longevity and Vitality. It is a 12 week program (April 18th – July 1st), where you get everything included in the 3 week program, additional meals, and we spend more time together and you have more time to grasp all the concepts toward natural pathways to having a healthier life.
READY!!?
Space is limited !
Secure your space with a $99 deposit* NOW
!
Please call, text, or email if you would like, more information about the programs and costs, payment plans,

private coaching,

or to discuss any specific challenges around getting your health on track.
Looking forward to assist you to get your health on track and accomplish your mission successfully!
* Just to hold you to your commitment, the deposit is non-refundable. If for any reason the program is cancelled your deposit will be refunded.