Words to EMPOWER your womb …and your LIFE
Now…imagine FEEDING words to your womb!!
When the body is dis-eased, it generally means there is an imbalance in the body, mind, and spirit. Many people only focus on "healing" the body physically when dis-eased and forget about the mind and the spirit.
Your emotional and mental state has a HUGE impact on your physical body…and vice versa…thus the need for complete, holistic balance. Below are some wonderful sacred loving empowering words from the author of Sacred Woman, Queen Afua, for you to FEED info your phyical womb for healing.
As she says "As you speak these affirmations of empowerment, allow a flow of natural creativity to fill up your womb, lift you up, inspire you to heal, to love, be FREE!"
My womb is SACRED, and so is my life.
My womb is DIVINE, and so is my life.
My womb is RADIANT, and so is my life.
My womb is PURE, and so is my life.
My womb is LIBERATED, and so is my life.
My womb is PEACE, and so is my life.
My womb is BLISS, and so is my life.
My womb is HEALED, and so is my life.
Read them again…OUTLOUD..with power, defiance, and compassion!!
So how does that make you feel?? I hope you felt the joy, yet strength of those words. Add more of your own! Write them down in your journal.
Try adding uplifting music and movement!…or be soft and medititave. Either way works. Also, the most engertc times of the day to FEED these words are at sunrise and sunset.
I would love to know how this has helped you, and what additional words of power you spoke to your womb! Leave a comment here or like the ConsciousLivingCare community page and leave a message there.
Keep LIVING your life CONSCIOUSLY in body, mind, and spirit.
Many Blessings,
Ayo (Pat) Hinds-Bankole, C.N.H.P.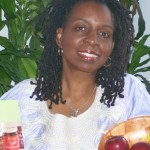 Ayo(Pat) Hinds-Bankole, owner of Conscious Living Care (www.consciouslivingcare.com), is your ultimate Wellness Expert & Coach, helping people ignite and re-ignite their passion for great health from the inside out! Serving Men/women/children/pets nationally and internationally.
The contents of this site, are for informational purposes only. Nothing contained in this site is or should be considered or used as a substitute for professional medical or mental health advice, diagnosis, or treatment. Never disregard medical advice from your doctor or other qualified health care provider or delay seeking it because of something you have read on the Internet, including on this site.